Cryotherapy (aka Fat Freezing) is a non-surgical approach to permanent fat reduction.
See results within 4-6 weeks with Cryotherapy Fat Freezing at Clinic 33
Book a course of treatments with Clinic 33
What is Cryotherapy?
Technically referred to as Cryolipolysis (the freezing of fat lipids) or more commonly known as, Fat Freezing is a fat reduction treatment unlike no other.
This was the treatment that started it all for us back in 2013. As a clinic we were the first to do this procedure outside of Harley Street and still to this day the only clinic that takes a 'lifestyle and holistic' approach coupled with the science to offer a fully comprehensive service.
This is the treatment which has had our lions share of attention over the years and the procedure that we are most well known for.
How does it work to remove body fat?
A protective membrane is placed on the skin in the desired treatment area, a vacuum applicator head is then placed on top, suction pressure is applied and the cooling process begins.
The subcutaneous fat within the treatment head is then subject to below freezing temperatures between 30 – 60 minutes.
Adipose Tissue begins to break down from a solid to a liquid composition, skin tissue and surrounding cells are not subjected to any such damage.
Your body then flushes out the adipose liquid tissue from within the cells through your lymphatic drainage system and subsequently out through urine. Once this process takes place cell apoptosis occurs and the fat cells in question will be unable to reinflate in the future.
Which parts of the body can Cryotherapy be done on?
Flanks (love handles)

Inner thighs

Saddle bags

Lower glutes

Bra line (back)

Arms (tricep area only)

Upper pectoral, front armpit area
Clinic 33 Cryotherapy treatment results
From a treatment perspective, you lose between 30 – 70% of what goes in the applicator head. The time frame for this (on average) is 3 – 8 weeks.
Summary of Cryotherapy benefits:
Next to no downtime.

Permanent results.

Safe, non-surgical and clinically proven.

Relatively comfortable and no sedation.

Fast treatment time.

Non-invasive alternative to Liposuction.

Effective for spot reducing hard-to-shift body fat.
"My weight on the scales has not changed however people keep telling me how much weight I have lost and I have been able to wear things I have not fitted in to for years. My stomach is noticeably much flatter and I feel more confident and happy. The fact the treatment didn't hurt at all, was quick and had no downtime makes it even better. I would recommend this to anyone!"
"I had a lipoglaze treatment done, and it is amazing! The nutritionist and personal trainer work together to design for each individual a personalised nutritional plan and a personalised exercise program. This, combined with Lipoglaze does wonders! It's with no doubt the best non-invasive treatment on the market for weight loss."
"Friendly, efficient and above all, effective treatments. Lipoglaze is a quick, safe and effective option for fat removal compared to invasive surgical procedures. It is accompanied by excellent nutritional advice completely individually tailored, and any questions are answered in a fast and easy to understand and follow manner. Highly recommended."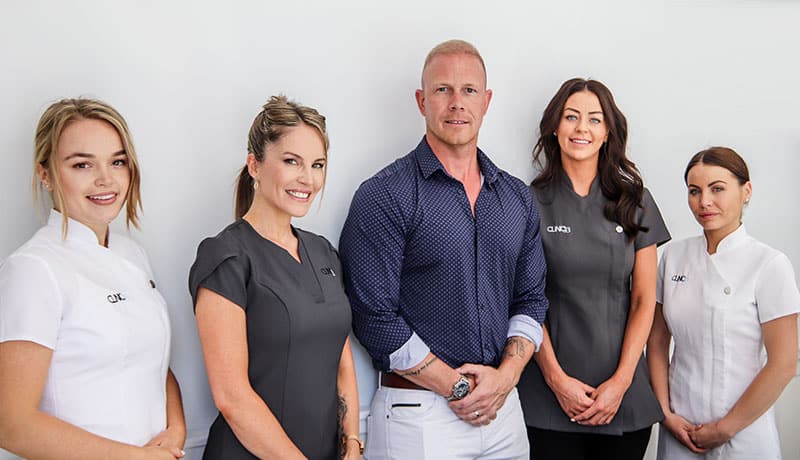 What's different about Fat Freezing at Clinic 33?
We were the first to do this procedure in the south-east. We opened the clinic for this treatment and came from an industry that is focused entirely on weight loss, fat reduction, health, fitness and tracked results. It's not for us to tell you that we are best, all we can do is give you the following information and let you decide for yourself…
Clinic 33's co-founder focuses entirely and exclusively on this treatment alone and has done since 2013
We have had each evolution of Cryolipolysis since the beginning, which now totals 5 different machines each with incremental progressions.
As of July 2020 we have been using the latest and most advanced version to date, the ISO Cryo 360+. As of July 2021, there are 2 of these in the south east, we have one at each clinic location.
The 360 degree applicator treatment heads are 30% more effective than the previous generations of Cool sculpting, Lipo contrast & 3D Lipo's version. This is simply because the overall capacity for freezing is far superior and much more comfortable than the freezing plates that feature in the above mentioned machines.
If there was a better machine to use then we would simply be using that, at some point in a few years there will be the next generation and at that point we will have be offering that. Aesthetics does evolve quite quickly so its our job to be at the forefront of such cutting-edge advancements.
Every client we see for Cryotherapy experiences a fully comprehensive service that includes a detailed assessment and explanation of direct segmental bio impedance through our InBody270 machine. This enables us to see a multitude of varying specifics such as: Bone density, Protein content, intracellular water, body fat and muscle tissue broken down to body parts, internal visceral fat, metabolic rate and total daily energy expenditure. When you couple this data with targeted fat reduction through Cryolipolysis and adjust any lifestyle factors that are flagged then the end product is very motivating and inspiring.
We have performed in excess of 4000 fat freezing procedures since 2013.
Are avocados good for your skin?
Are avocados good for your skin? The short answer [...]
InBody 270: the first step on your fat loss journey
What do you see when you look in the [...]
Q&A with Clinic 33 co-founder, Kevin Stemp
As Clinic 33 celebrates its second month in Meads, [...]