Do you suffer with dimpled and uneven skin? Cellulite causes the classic orange peel skin and affects up to 90% of women at some point in their lives. While it does occur in men, cellulite is much more common in women due to the structure of their  connective tissue.
Cellulite is caused by many factors including:
hormonal factors

tight clothing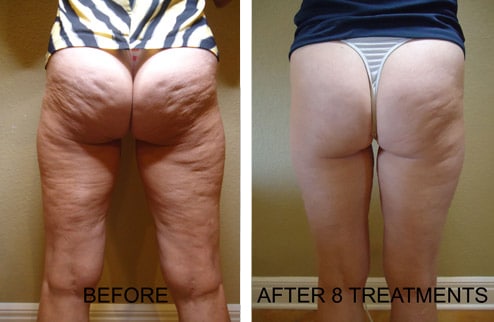 Diet: cellulite often affects people who eat too much fat, carbohydrates and salt and those with a low fibre intake.
Lifestyle: your choices can make a big impact too. Smoking, standing or sitting for long periods of time will increase your chance of developing cellulite and the amount, especially if you don't exercise.
Genetics: while you can have a genetic component or predisposition to cellulite, you can reduce your chances by adopting a healthy lifestyle,  diet and taking plenty of exercise.
Hormones: also play a big part in cellulite development. Estrogen (also known as oestrogen), insulin and thyroid hormones to name a few can play a part in cellulite production.
Tight clothing: clothes, especially underwear, that are tight enough to limit blood flow to certain areas can contribute to the formation of cellulite.
Cellulite treatment options
As fat loss specialists Clinic 33 offer two treatments to target and help reduce cellulite – Lipofirm Tri Lipo Radio Frequency and Lipoglaze Cryotherapy. These treatments, when combined with our bespoke nutrition and exercise programmes, can deliver visible results.
Lipofirm generates heat, while Lipoglaze Cryotherapy (also known as cool sculpting or fat freezing) uses very low temperatures. With most clients one of these treatment methods will be sufficient and we will advise you which is best at your initial consultation. However, When reducing body fat on the legs and bum using fat freezing of Cryotherapy we noticed that cellulite was visibly reduced and so we now combine the two treatments for more severe cases of cellulite.
Why not book your complimentary cellulite consultation and discover how Clinic 33's specialists can help you?  Call 0333 011 0680 or complete the form below.
FAQs about Cellulite Treatment in Brighton & Hove
What is the best way to get rid of cellulite?
Cellulite is caused by a number of factors ranging from hormonal, genetics, diet, lifestyle,
medication.
The best treatment currently on the market is Lipofirm Pro. This Tripolar radio frequency treatment
will tighten and tone the lax skin right from the 1 st treatment which will cause the collagen to
contract thus giving a visible smoother look to the skin. Over a course of treatments more collagen
will be stimulated, fat metabolism will speed up, cellulite will be eliminated.
DMA (Dynamic muscle) activation is used for muscle toning but also helps with liquidising the fat. As
the electrodes push the heat from the radio frequency down, the DMA that is contracting the
muscle pushes up. Together this Tripolar technology liquidises the fat.
This technology aids a natural process called Lipolysis, turning unwanted liquidised fat that has been
drained into the lymphatic system to be burned as energy and eliminated from the body.
It does not require any post-treatment downtime or recovery.
How much is cellulite removal?
A single session is £100
we recommend a course of either: 8 treatments £640 (£80 each) , 12 treatments £840 (£70 each)
or 16 treatments £960 (£60 each)
How many treatments will I need before visible results?
You will see visible skin tightening results right from the 1 st treatment. However, cellulite
may have been there for some time so we would recommend a course of either:
8 treatments £640 (£80 each), 12 treatments £840 (£70 each) or 16 treatments £960 (£60)
Will the cellulite treatment hurt?
No, you will feel a warmth during the treatment from the heat of the radio frequency, which
clients find is a pleasant experience. You will also feel your muscles contract and relax as the DMA
finds the motor point of your muscle like a workout. Glycerol is also applied to the skin to allow the
electrodes to glide on the skin and help the heat from the radio frequency to go into the dermis and
subcutaneous layer (where the fat cells are in the adipose tissue).
Will the cellulite return?
Lipofirm Pro offers results that last two years however cellulite is due to lots of different
factors (this even includes caffeine) and for example the fact that women have vertical collagen that
unfortunately allows the adipose fat cells to bulge out causing the dimpled visible effect we see. It is
best to come in for maintenance to prevent the collagen structure from slacking and the results
being undone.
What can I do to prevent cellulite coming back after treatment?
We recommend booking in for a consultation to see our onsite nutritionist (£45 a session)
who will help go through ways of helping maintain the results that have been achieved. We also use
products that utilise the latest in Nano Dermatology like Cellulux by Sesderma. This is the market
leading product the cellulite reduction and skin firming.
Avoiding caffeine, fizzy drinks, swapping carbs like potatoes for sweet potatoes, swapping brown
bread and rice for white. Exercise will always help to eliminate.