The purpose of the 3D-Hydr02 is to provide hydration, oxygenation, anti-ageing, brightening, skin tightening and to improve the texture of the skin and remove congestion.
This treatment is new for 2020. The Hydro Facial by 3D Lipo incorporates 7 different treatment technologies into one device.
Dubbed the 'five-star facial' this specific device is currently the only hydro facial machine to use 7 different technologies.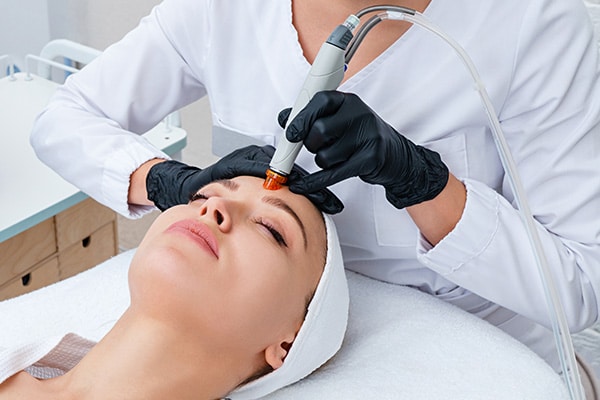 Each treatment is tailored specifically to your skin concerns and any problem areas.
The seven different technologies include:
Radio frequency skin tightening
Hydro peel/ Deep cleanse
Exfoliation/ Oxygenation
Skin lifting
Hydration
Cryo facial/ Fire and Ice
What do the different technologies do and how do they work?
Fire & Ice
admin
2020-07-27T13:45:40+01:00
The fire represents the heat element during the treatment. Using this applicator heat is incorporated in the beginning to open pores, increase blood supply and aid product infusion. The 'ice' represents the Cryo stage which is the final stage in this 7-step treatment. Cooling the skin down to 5 degrees Celsius leaves the skin cool and refreshed to end the treatment.
The 7 different technologies can be applied singularly or combined to offer a completely bespoke treatment to achieve the desired look. It is the delivery of all 7 technologies that set this particular treatment apart from the rest. The Hydra Facial device has now been around for a couple years and up until recently was offered with 6 treatment technologies. The 3D-HydrO2 facial is the latest advancement and now offers 7.
We currently work with 9 different Medical Aesthetic brands, each at the forefront of their respective specialised areas.
More youthful radiant skin
Are avocados good for your skin? The short answer [...]